Small Text Generator
Quick Tip: Tap or click on any fancy font block to copy the fancy font.
Cool Small Texts
Small Caps Text

Small Caps Text is loading...

Subscript Small Text

Subscript Small Text is loading...

Super Script Small Text

Super Script Small Text is loading...

Small Quoted Text

Small Quoted Text is loading...

Small Decorated Text

Small Decorated Text is loading...
That's all cool font to copy and paste. ¯\_(ツ)_/¯
About Small Text Generator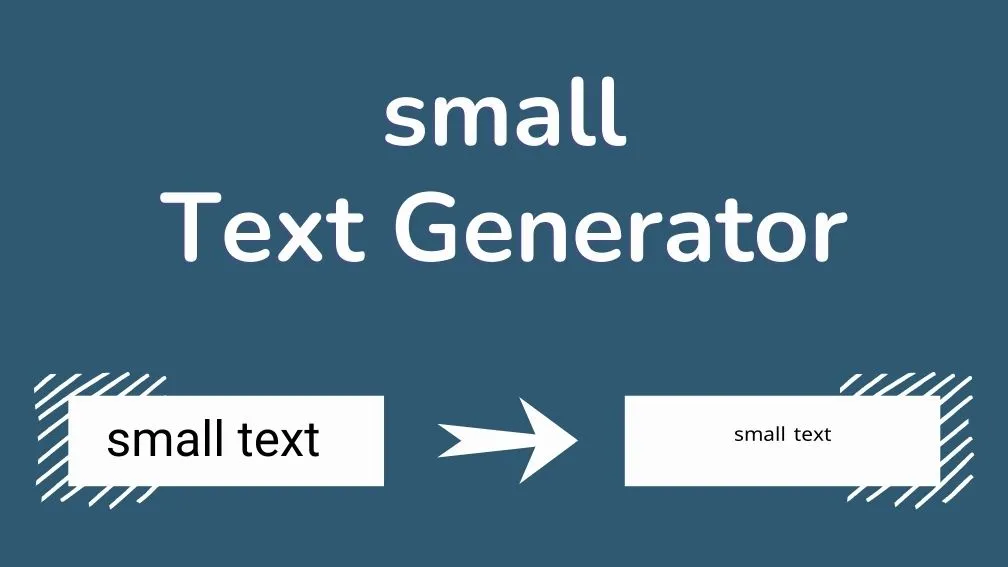 Small Text Generator
A handy Small Text Generator with Sub script and Super script unicode letters for cool and stylish Small Texts.
A small text generator is a very simple tiny font generator. It converts your normal text into small Unicode characters when you type on the input box. once the tiny text is generated you can easily copy and paste it to any social media platform like Facebook, Twitter, Instagram or chat applications like Whatapp, Facebook Messanger, Discord, etc.
When you type or paste your text in the input box, the small text generator maps each character with Unicode character to form a beautiful small text for you. for small text generators, we use superscript and subscript letters. so when you type "I am small text" it changes to tiny text like "ᴵ ᵃᵐ ˢᵐᵃˡˡ ᵗᵉˣᵗ".
in HTML you can use the <sup> tag to convert the text to superscript, for example
<sup>SuperScript Text In HTML</sup>
which will look like below.
SuperScript Text In HTML
As the tiny text generated by the small text generator is assembled using the Unicode Characters it will be supported by major devices, platforms, and apps without any glitch.
Some apps and websites have stopped support for certain ranges of Unicode characters within certain areas. so you may find some fancy font not showing correctly on the website or app. In this case, we can not anything here if it's not working. maybe you can try another fancy font style.
How to use Small Text Generator?🤔
Using the Small Text Generator as similer as fancy font generator. here are the three easy steps to use this tool super effectively to copy and paste Small Texts.
1
Type or paste the text
Enter your text by typing or pasting the text in the text box above and let the Small Text Generator do its duty.
2
Copy Small Text
Choose any Small Text from the list and click or tap font block to copy Small Text.
3
Paste Small Text
Go to the app, website or document of your choice and paste the Small Text (learn how to paste text).
See more detailed information on how to use font generator page to get more help.
Small Text Generator Examples
Here are some examples of the Small Fonts you can generate.
Sᴍᴀʟʟ Cᴀᴘs Tᴇxᴛ
ꜱᵤ𝑏𝑠𝑐ᵣᵢ𝒑𝑡 ꜱ𝑚ₐԼԼ тₑₓ𝑡
ˢᵘᵖᵉʳ ˢᶜʳⁱᵖᵗ ˢᵐᵃˡˡ ᵀᵉˣᵗ
Hope you find this free and handy Small Text Generator tool interesting and useful. Do not forget to share this amazing font generator with your friends.
Thank you for the glorious support!